It is Palm Springs yet it is a chilly and a cool 63 with sprinkles forecast for today. But at least the garage doesn't feel like a deep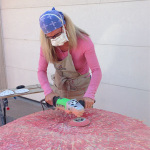 freezer like it has for the last few weeks, since our cold spell. It gives me hope that I can get back out there and work on my half-finished resin art wall sculpture and start new ones. I have to do a lot of my work in the garage for many reasons, 1. that is where the power tools are kept, 2. the dust from cutting and sanding resin would make a mess in the house, 3. polyester resin produces powerful noxious fumes that one is not supposed to breath. Plus resin dislikes the cold as much as I do.
I have been very absorbed in my puddle series abstract wall art which I can do indoors with a different kind of resin. It has been really fun. The hardest part is waiting for my darling hub to make more panels, which is a multi-hour job.
I have been tossing around in my mind what sculpture design to do next. Retro ovals? A grouping of different retro shapes? Amoebas? Hmmm. I am looking forward to trying some new techniques that should improve the look and require fewer hours per piece.
This is a pic of me sanding one of my wall sculptures.