Why Metal Wall Art?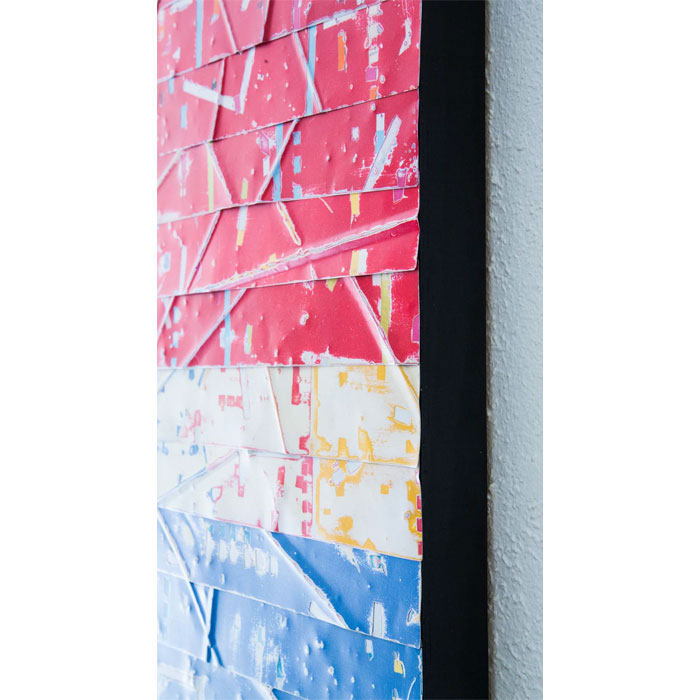 Why not metal? Seriously though, I really wanted to work with metal when I first got into art. But I had never seen any metal wall art that excited me. It all seemed very hard and cold. Nothing I'd ever want in my house.
I have always been attracted to old metal items. Even as a child. I had quite a collection. A favorite of mine was my collection of rusty, black giant ball bearings I collected along the train tracks in the desert in Barstow. I wish I still had them, they were cool. I still collect rusty metal objects on my walks with my dog into the desert near my home.
Metal is such a sturdy foundation on which this grungy patina of time and weather is created. I particularly like the look of faded, worn and layered paint, slowly removed by man and Mother Nature. Where most people might see these items as trash, I see them as beautiful relics of the past. This is the inspiration for my metal series.
The path to my current style of abstract metal wall art was simply that of fooling around. "Experimentation" would be the more respectable term, but that does not sound like much fun. Putting paint to metal in different ways is a continuous learning process. Some of my metal pieces are heavily distressed, some less so. I use bumps and folds as the high spots for sanding and revealing the paint layers and metal. Other pieces I have applied and removed paint to represent a patina of age. I find it a challenge to develop a weathered patina, while still creating a pleasing piece of art.
Recently, I have gone to the opposite end of the spectrum. My mid-century modern art series is a departure from the weathered look. The art looks new and shiny bright, with lots of clean hand-sanded exposed metal and big bright colorful shapes. These pieces require a lot of exacting work and calculating. As I mention in my blog article "My Mid-Century Modern Wall Art", I was excited to be able to develop a mid-century modern style that looked natural as opposed to contrived.
One thing all of my pieces have in common, other than the metal, of course, is I always have the metal revealed in some way. Whether it is peeking through sanded paint layers, glowing though translucent paint or boldly exposed, I like to remind the viewer to look beyond the paint to the unique surface below.